Follow the Fishes: CPCI Branding at St. Louis Children's Hospital
Team Branding | Fall 2018
My team was paired with the Cleft Palate and Craniofacial Institute (CPCI) at St. Louis Children's Hospital. Through Penina Acayo-Laker's Design for Social Impact studio.




The CPCI often begins working with parents prenatally, and children enter care soon after birth. This involves a series of all day visits, called Team Days, either annually or bi-annually. During a patient's Team Day, the parents and child meet with different doctors, specialist, and other members of the multidisciplinary care team.



Original timelines and patient reminder cards

Since care begins early in life, it is difficult for families to understand the long term scope of their child's care beyond the immediate surgery. The CPCI team wanted a revised set of patient care timelines because many families don't understand why certain treatments are necessary for years following the main surgery. After shadowing the Team Day we posed the design question: how might we improve family engagement in cleft palate and craniofacial care?





Also during the Team Day we noticed the already present color scheme and aquatic theme. Beyond the aquatic iconography on the walls, the waiting room had a fish tank and the patient rooms had fish games for the kids to play with while their parents talked with the care providers. The aquatic theme was even already naturally implemented in the way finding. When families would leave the clinic, providers would direct them to "follow the fishes" to the exit.







The CPCI wanted the timelines to be editable in case of new research. As a result, we created the designs in Microsoft Word. Beyond the clinic's initial request, we also updated the patient appointment reminder card and graduation certificate.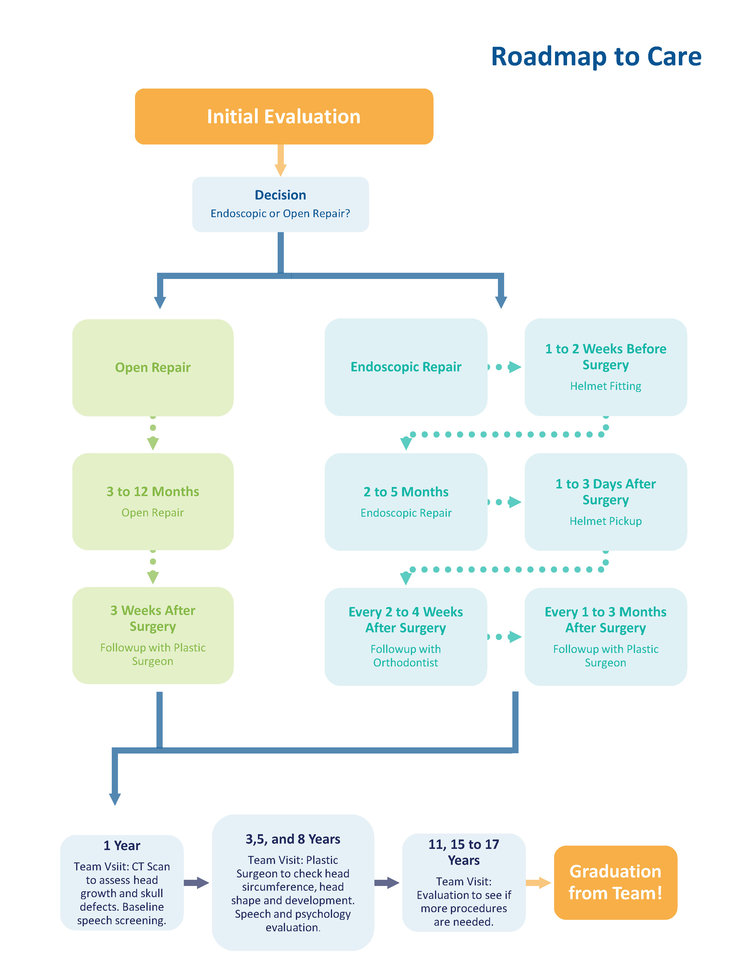 During our first meeting, the CPCI had talked about how another local children's hospital used a passport. We took this form and designed a passport that gave families a fun activity to do with their child, as well as any accompanying siblings, and not just another form to fill out. The passport also turned the task of going between providers into a game for children because they can get a sticker from each stop. This sticker exchange was built off of an already existing practice where patients got stickers in the waiting room.